As the temperatures begin to drop and the days get shorter, it's time to start thinking about how to get your robotic mower ready for winter.
In this article, you'll find some tips to help you get started.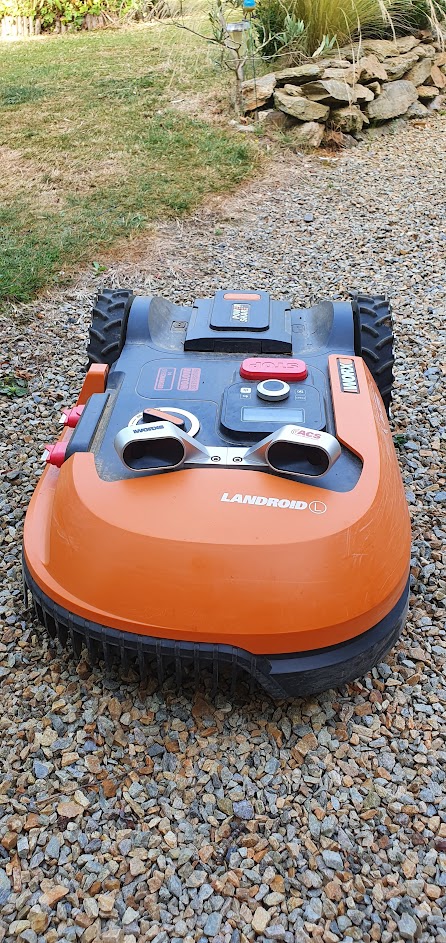 Winterizing a robotic lawnmower
1. Check the manufacturer's recommendations.
Most robotic mowers have specific recommendations for winter storage.
We'll talk a little below about winterizing the Landroid robotic mower from Worx.
Be sure to check your mower's manual for tips.
2. Clean the mower.
Give your mower a good cleaning before storing it for the winter.
This will prevent corrosion and keep it looking its best.
3. Sharpen the blade.
A sharp blade is a must for a robotic mower.
Be sure to sharpen the blade before winter storage.
You can also change the small blades to get your robotic mower ready for next spring.
4. Store the mower in a cool, dry place.
When it comes to storage, location is everything.
Be sure to store your mower in a cool, dry place out of direct sunlight.
5. Check the battery
If your mower is equipped with batteries, check them before storing it for the winter.
Batteries can lose their charge over time, so it's important to check them and make sure they're still in good working order.
Winterizing your lawnmower : Specific case of the Landroid Worx
As you know, I purchased a Landroid WR147.E1 robotic mower in the spring and as winter is coming, I wondered how I was going to winterize it.
I found this information that I will share with you.
To get your Landroid in tip-top shape for the next mowing season, please follow these instructions.
1. Cleaning
Clean your Landroid carefully.
Do not use pressure washers, detergents or water in general.
Compressed air, a rag and a little elbow grease will do the trick.
2. Battery care and storage
Make sure the battery is fully charged before turning off your Landroid.
Keep the battery charged by fully recharging it at least every two months.
3. Storing your Landroid robot mower
To properly winterize your robot mower, you can store it in a dry place at a temperature above 0°C so that it doesn't freeze.
The base of the robot can of course stay outside without any problem.
It should be unplugged because there is no point in leaving it powered except to waste energy!
Conclusion
With these tips, you can be sure that your robotic mower is ready for winterization.
Be sure to follow the manufacturer's recommendations and take good care of your mower, and it will be ready for use when spring arrives.